Convert MBOX to PST Free - Step by Step
Are you converting MBOX to PST file? Let's read the free solution to convert MBOX to PST format manually step by step.

Email applications like Mozilla Thunderbird, Apple Mail, Eudora, Netscape, Entourage, SeaMonkey, etc., are most widely used mailing services in present time. All these programs generate/support an MBOX file, to store emails in a localized manner.
Well, on the other hand, Microsoft Outlook (another desktop-based email application) is providing its clients a secured and an effective measure to manage emails along with other data like Calendars, Contacts, Tasks etc.
In comparison to other email programs (which create MBOX file), users find Outlook more appropriate and relevant service for exchanging mails and managing personal information on local system. Therefore, there is a need for solutions by which one can convert MBOX to PST free in order to perform migration from an MBOX supporting email application to Outlook.
Let's move ahead to see how to convert MBOX to Outlook PST format!
What We Have Covered in this Blog:
MBOX files are basically mailbox files, which are used for controlling of email messages in an individual text file format. This file saves email content in a concatenated manner where each and every message is archived after the another one.
Earlier, these files were supported only by UNIX hosts, but now they are supported by multiple desktop-based email applications like Spicebird Mail, Mutt Mail, Chaos Intellect, etc. The extension of this file format is .mbox, which is stored on the default location where an email application stores its file.
Microsoft Outlook stores its personal folder data in a Personal Storage Table (PST) file format. These files are open proprietary format, which are used to save copies of emails, calendars, contacts, and other Outlook items.
Therefore, one needs to convert source file in PST format for migrating data in MS Outlook.
Following are some scenarios, which are going to illustrate causes for converting MBOX into Outlook PST file:
Scenario #1: "I am using Apple Mail on my machine for mailing purpose. However, I want to share my emails with one of my friends who is operating Outlook in his machine. Therefore, I am in search for best way to convert MBOX into Outlook PST file by which I can make Apple Mails accessible in MS Outlook. Please someone suggest me an approach for the same."
Scenario #2: "I have decided to switch from Thunderbird to Outlook because I found MS Outlook better by means to manage personal information. However, I tried many approaches for the same but, none of them helped me out. Can anyone recommend an error-free solution through which I can successfully convert MBOX file to PST free."
Scenario #3: "Well, I am leaving my Office where I used to operate Chaos Intellect on my system. However, I want to create a backup file of my official account for taking some essential emails with me. Therefore, I require a way out which I can create backup of Chaos Intellect account. Will anyone help me out in this issue?"
Instant Solution: To convert MBOX to Outlook 2016, 2013, 2010, 2007 PST file format quickly without spending too much time on manual solution.
There are 2 methods to convert MBOX file into PST format manually. Let's explore one by one:
There are only 3 steps to convert MBOX emails into Outlook PST file format:
Save MBOX emails as EML files
Drag & Drop Moved EML files into Microsoft Outlook
Export MBOX Email Messages to PST File
Let's see all the steps one by one:
Step 1: Save MBOX emails as EML files
Open Thunderbird email client application. Click right on any folder and hit on "New Folder". Here I am selection "Inbox" folder.
Give any Name to Create a "New Folder" under Inbox. For Example: Email Messages. Hit on "Create Folder" button.
Select all the emails which you want to move into "Emails Messages" folder (Newly created Folder).
After that, all the selected emails will be moved to "Emails Messages" folder. See in below screenshot.
Click right after selecting all the emails and save them.
All EML files will save into Desktop Folder.
Step 2: Drag & Drop Moved EML files into Microsoft Outlook
Open the folder where you saved EML files. Select all to drag all messages and drop into Microsoft Outlook folder. You can see all the EML files in Outlook.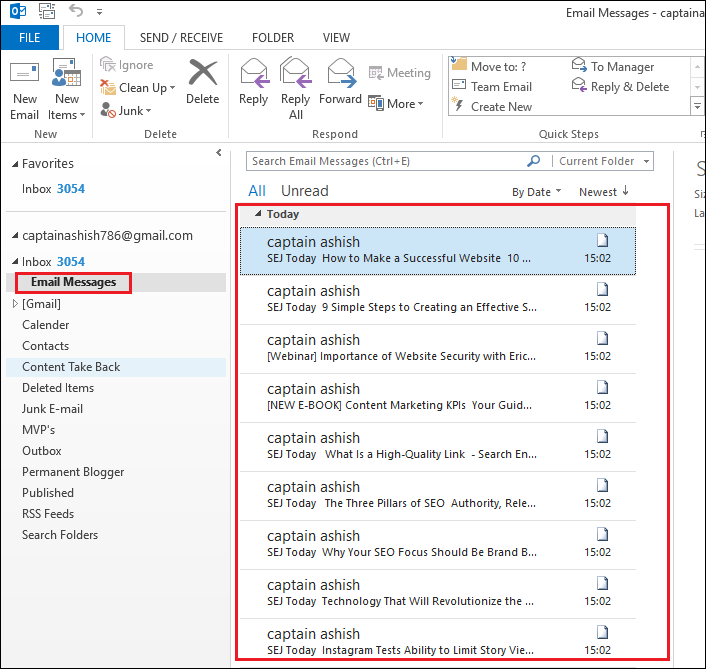 Step 3: Export MBOX Emails into PST File
Go to File >> Open & Export >> Import/Export to export emails from Outlook.
Select "Export to a file" option and click "Next".
Select "Outlook data file (.pst) option and click on "Next".
Search the folder where you saved "EML" file and hit on "Next" button.
Browse a location for new Outlook PST file and click on "Finish" button.
Now, finally, we have converted MBOX into PST format by following the above steps.
Apple Mail
Eudora
Outlook Express
Microsoft Outlook
Go through following set of instructions for MBOX to PST conversion, which involves usage of above pre-installed applications:
1. In Apple Mail
Go to File >> Import Mailboxes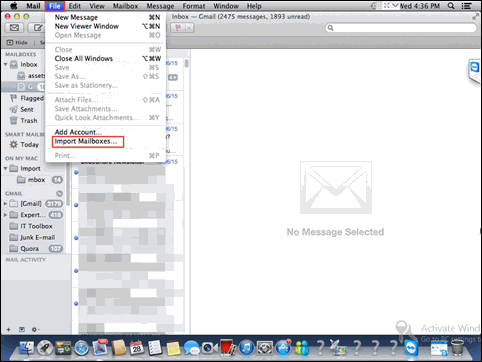 Choose Files in MBOX format option >> click on Continue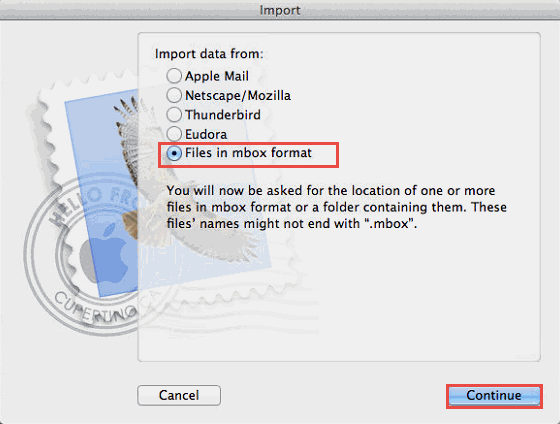 Move towards the location where you have stored source MBOX file, select it, & then click on Choose >> Continue to proceed further
Read instructions, which are provided on the current screen and then hit on Done button for initializing creation of mailbox data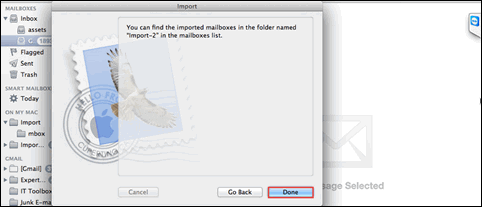 2. In Eudora
After successfully importing emails from MBOX file in Apple mail, follow below given steps:
The MBOX file (which was imported in Apple mail) needs to be appended in Eudora by renaming it in following way: InboxMBOX → InboxMBOX.mbx
Locate this file in the directory where Eudora is saving its files. By default, the location is C:\Documents and Settings\user\Application Data\Qualcomm\Eudora
Open Eudora on your machine and then verify the mailbox creation by clicking on InboxMBOX.mbx file
Close the Eudora application for further proceedings with Outlook Express
3. In Outlook Express
Go to File >> Import >> Messages option
From the current list, choose Eudora >> click on Next to proceed further
Migrate towards the location where you have moved InboxMBOX.mbx file (In Eudora application) & then click on OK to continue
Click on Next >> Next >> Finish to import Eudora emails in Outlook Express and then to Outlook
4. In MS Outlook
Go to File >> Open & Export >> Import/Export and then click on Import and Export for launching import/export wizard in MS Outlook
From the current list, choose Import Internet Mail and Addresses option and then click on Next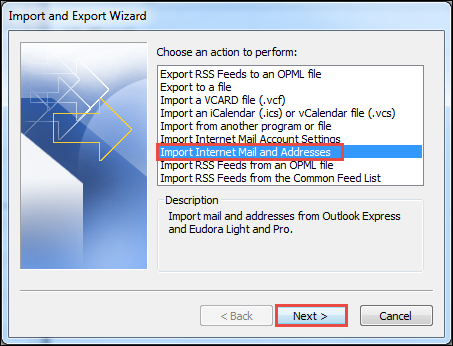 Click on Outlook Express 4.x, 5.x,… and Click Next button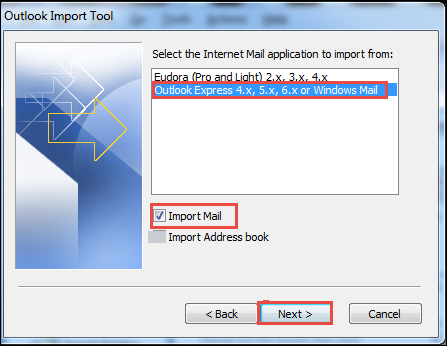 Finally, your MBOX file emails will be moved in Microsoft Outlook.
Now, Export all emails into PST as we did above in Method 1
Platform Dependent Approach: MBOX to PST free conversion requires one or the another email application for its working or implementation. Therefore, it is impossible to work with such procedure in absence of any one email application.
High-Risk of Data Loss In Emails: While transferring emails from one application to another, there are high chances of data loss. In addition, there are also few risks of changes in settings of email programs, which may result in slowing down the application performance.
Not a Direct Approach of MBOX to PST Conversion: This manual trick involves one-by-one usage of four applications i.e., Apple Mail, Eudora, Outlook Express, and MS Outlook. If anyone of these program is not available then, MBOX to Outlook conversion approach fails to work.
MBOXPST Converter
is one of the best-suited approach to
import MBOX into Outlook
2016, 2013, 2010, 2007 and below versions without any risk of data loss. MBOX to PST software supports identification of email applications, which are supporting MBOX file. Moreover, a MBOX file of any email clients like Apple Mail, Entourage, Thunderbird, Mutt Mail, etc., is easily supported by MBOX converter. The application is totally an independent software, which conveniently convert MBOX to PST file in couple of clicks.
MBOX to PST Conversion is possible with both manual (free) trick and an automated approach. Well, if users are not having any essential data and are ready to bear data loss, then they can go for free strategy. Else, the relevant measure is to use MBOX to PST converter, which enable users to perform MBOX to Outlook conversion in a simplified manner. The tool does not require any Outlook installation or the server connection for migration. Therefore, without any worry users can choose this solution to convert MBOX to PST format for free.