Sometimes when that important email you were expecting gets delayed, it's probably because the problem was at the receiving end and not with the sending. Sending and receiving are two different processes and it isn't necessary that what is being sent will be received too. Probably an email that you thought was sent successfully actually got stuck in the outbox or didn't reach the destination mailbox. Amongst a number of possibilities, this could be due to technical/network related glitches. The following blog discusses one of the most trivial yet commonly troubling issues encountered by MS Outlook users - cannot edit send/receive settings. You will find out the reasons that cause such a requirement at the first place and a dependable solution at the same time.
Cannot Edit Send/Receive Settings - Know How To!
To add the POP3 account, move to Account settings option:
In case of Outlook 2003
Before concluding on how to edit the send/receive settings for Outlook emails, it is important to be know why even such requirement occurs. Microsoft Outlook is the first preference of home based and professional users around the world for communication through emails. However, it becomes very annoying when that email itself gets delayed for which users are so dependent on Outlook.
This sometimes happens because your Outlook is not set to perform an automatic send and receive of emails. In order to check the same, you need to go for an edit of send and receive settings on your Outlook application.
TIP: The fastest way to modify the settings is to reach the edit window using hotkeys - CTRL + ALT + S.
Follow the steps given below in order to make changes to the settings of Outlook send and receive feature:
NOTE: Outlook 2010 was used while performing the procedure. The process may vary slightly at a few points depending upon the Outlook version being used. However, not much will change in it.
1. Run Outlook and click on Send / Receive tab from the Menu bar.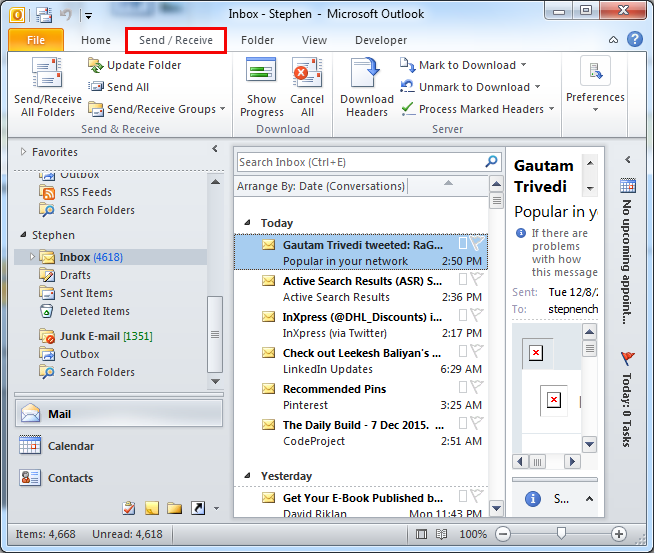 2. Click on Send / Receive Groups and a drop down menu will open up.
3. Select 'Define Send/Receive Groups…'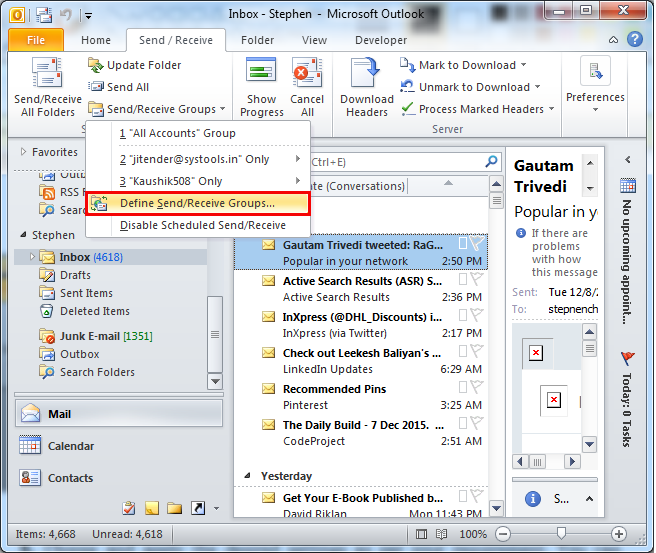 4. A window by the same name will open up.
5. Choose and apply the desired settings as per your requirement. You can perform the following customization:
Permission to add accounts to Outlook 'Send and Receive Group' for applying Send and Receive alert for specific user profiles only.
Schedule the automated send and receive alert duration.
Choose to perform a final check on new emails just before exiting.
Apply settings changed / applied for 'All Accounts' or 'When Outlook is Offline'.
Click on Close to exit the window once the settings have been changed accordingly and with proper measures.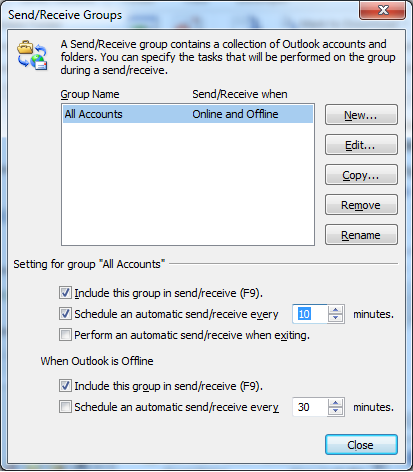 This is how you can perform the customization of settings for send and receive in Outlook. A few variations are normal to be encountered due to the difference in Outlook versions being used and being discussed. However, overall the procedure is common.
Cause of Inability to Edit
Nevertheless, any kind of issue being surfaced can be a result of repeatedly checking the email status within short time duration. Checking for emails automatically as well as manually for more than 8 times can result in causing the application to hang and indicate performance issue.
On the other hand, in a case otherwise, it is possible that the SRS file, i.e. the Send and Receive Settings file has turned corrupt. In order to troubleshoot the issue, you are required to repair it by renaming the file. Make sure that Outlook is completely shut down from the front as well as backend while the file is being renamed.
NOTE: The file can be located on a Window7 and later configurations at: C:\Users\%username%\AppData\Roaming\Microsoft\Outlook\
Conclusion: In a similar condition, the users are requested to reboot Outlook and start afresh to troubleshoot the failure of being able to edit settings for checking email status. If you cannot edit send/receive settings in Outlook, the blog would have been of great use. Leave a comment conveying your suggestions or appreciation regarding the blog, if any.